Quick delivery
Shipped in the same day
The site dedicated to picnic baskets and outdoor living
What to choose for your picnic?
Which item is best for different outings?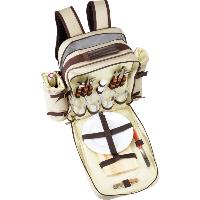 For a hike: the backpack is the most suitable type of basket. They are lightweight, because they include melamine plates and acrylic glasses, and they're easy to carry thanks to the lower back strap that makes it comfortable and free from jolts.
For a walk, or an outing by car or bike: the wicker picnic basket would be the perfect companion.
Virtually all of our bags and baskets have an attached insulated compartment or a removable cooler pocket that can be put in the refrigerator before your picnic. Everything is done to make your life easier!
Different types of wicker picnic basket
How they are carried?
Some baskets have a handle on top: this allows the basket to remain in the same position during transport. These baskets are often taller, allowing you to carry saucy dishes without the risk of spilling them. The handle may also be a fixed wicker handle, enabling you to get a basket with two lids.
The suitcase types are not as tall and can easily be taken anywhere, for example in the trunk of an antique car or on a luggage rack. We have created a two-basket ensemble for a bike – one basket has an insulated compartment and the other has the picnic kit: the duo vélo.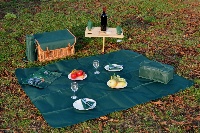 For 2, 4 or 6 persons?
For two: an ideal gift for a couple, for a wedding or retirement.
For four: the essential companion for families or friends to take on a memorable picnic.
For six: for big families or fans of large social picnics.
What material is used for the straps and interior?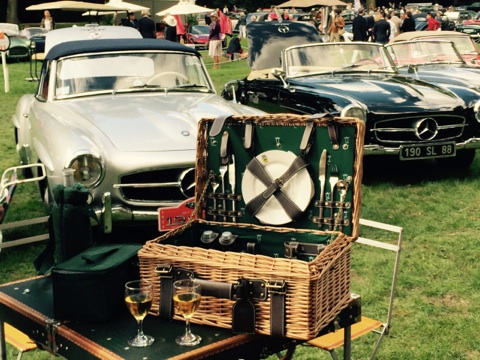 Straps:
Leather
Tradition dictates that a picnic basket is made of wicker and real leather. We have recreated this authenticity in our leather line of baskets.
Imitation leather
We select high-quality, thick material, which makes the baskets very resistant and durable.
Cotton
Finally, some models like the Marine basket and the Love basket are embellished with cotton straps for a modern look.
Interior fabric:
The lining depends on the model. The Saint-Michel basket is lined with hessian fabric, the Angers basket is lined with linen, and most of our other models are lined with cotton.
The 2017 innovation is the Trianon range
Made with genuine leather and coated canvas fabric so it can be cleaned with a sponge, the Trianon line combines chic style with practicality.