Quick delivery
Shipped in the same day
The site dedicated to picnic baskets and outdoor living
How to choose your picnic blanket?
Our blankets for the indoors and outdoors: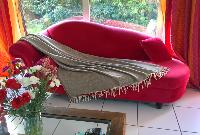 Do you think a blanket is only used to cover a sofa or a bed? Think again! We have created wool blankets specifically for the outdoors.
Virgin wool blankets from Portugal

The 100% natural blankets from Les Jardins de la Comtesse are woven with the wool from sheep raised in the mountains of Portugal. The climatic conditions of these regions make it possible to obtain superior quality wool. Only the wool from the sheep's back is used to weave our blankets.
Why? Quite simply because this makes it possible to obtain long threads, which allow us to make an extremely tight weave.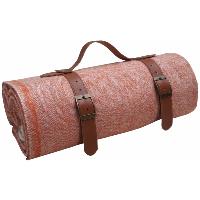 A blanket that can be used everywhere!
Therefore, this type of weave makes the blankets water-resistant (meaning that the water beads up on the wool and doesn't seep through). This is why these blankets are ideal for outdoor use. Is it a damp evening? The blanket will still be nice to bring along!
On a chair or a patio sofa, it provides unmatched comfort.
And for taking along on a walk, all our blankets come with a leather blanket holder.
These blankets are environmentally-friendly, of superior quality and durable. They are suitable to take along everywhere you go.
Blankets and covers with waterproof backing: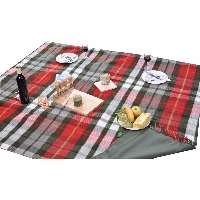 New Zealand virgin wool blankets
Polyester backing: allows it to be used comfortably outside. The virgin wool gives the blanket some prestige and makes it last a long time.
Fleece blankets:
Fleece is warm and lightweight. It's perfect for winter evenings in the mountains or a comfortable nap after a picnic in the countryside.
What size of blanket should you get?
Small size 66 x 98 cm (27 x 39 ½ in.): the Balade model is perfect for sitting on the ground or to easily cover a chair.
145 x 145 cm (57 x 57 in.): the traditional size for a picnic
XL 145 x 183 cm (57 x 72 in.): for a big picnic with no limits!